Claim payout on detection of disease.
Premiums as low as Rs. 99 per month
YOUR BENEFITS
Benefits for you and your spouse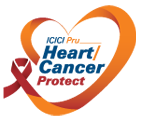 Term : 5 Year
Payment mode: Regular Premium
All future premiums waived off in case of a claim
Total Premium (You + Spouse) :
HOW DOES THE PRODUCT WORK?
Rajeev recovered effectively without inflicting any financial hardships on his family!

Rajeev is a civil engineer aged 37. Aware of the steep costs involved in treatment of illnesses like heart ailments and cancer, he looks out for a specialized plan along with his existing health insurance. After researching online, he buys a heart cover of Rs. 25 Lakhs under ICICI Pru Heart/Cancer protect with the increasing cover rider, which adds Rs 2.5 lakhs (10% of base cover) to his sum assured every year. He saves on his premium by taking the Single Pay option, and is able to save taxes under section 80D that year. In the final year of the policy, Rajeev suffers a heart attack and is in need of an immediate surgery, ICICI Pru Heart/Cancer Protect pays out 100% of the sum assured immediately, to help him carry out the surgery in a facility of his choice. It also pays out Rs. 12.5 lakhs as increased cover (Rs. 2.5 lakhs*5) as he had smartly chosen the rider.

Quality care, along with determination leads Radhika to a full recovery !

Radhika is a media professional aged 35. Skeptical about her existing health insurance policy being sufficient, she looks out for a specialized health plan. After considering various plans online, she buys a cancer cover for 50 lakhs under ICICI Pru Heart/Cancer Protect with the income benefit option, which pays her 1% of total cover monthly for five years, as an income replacement. She saves on her premium using the single pay option (5 Years), and gets tax benefits under section 80D. In the fourth year, she gets diagnosed with breast cancer. The plan comes into force as soon as she is diagnosed and pays out 100% of the cover to let her start treatment in a facility of her choice. The income benefit also starts paying out Rs.50,000 monthly to help her family meet their needs despite her condition.
BENEFITS OF ICICI Pru Heart / Cancer Protect