Review
Macro-economic indicators
Retail inflation (which includes price of food, fuel, electricity, etc.) for November 2020 came in lower than market expectation at 6.9% against previous month's 7.6%
As on December 18, 2020, the total loan book of all the banks in India increased by only 6.1%, significantly lower than their deposit growth, which was at 11.3%; suggesting that investors are preferring safely, stability, guarantee of returns in these market conditions
Manufacturing indicators continued to show signs of moderating growth after strong pick-up in previous months
Indian Rupee appreciated 1.3%, before closing the month at 73.07
| | | | |
| --- | --- | --- | --- |
| MACRO DATA | Dec 31, 2020 | 1-Month | 1-Year |
| USD / INR | 73.07 | 74.04 | 71.38 |
| Brent Oil ($/bl) | 51.80 | 48.18 | 66.00 |
| Retail Inflation (CPI) | 6.93% (Nov) | 7.61% | 5.54% |
| | | | |
| --- | --- | --- | --- |
| MARKET RATES | Dec 31, 2020 | 1-Month % Change | 1-Year % Change |
| Borrowing rate for GoI for 10 years | 5.87% | -0.05% | -0.69% |
| Borrowing rate for good quality (AAA) private company for 10 years | 6.54% | 0.14% | -0.87% |
| Bond market index | 3858.44 | 0.34% | 12.29% |
Market Update
The RBI's Monetary Policy Committee (MPC) unanimously voted to keep policy rates unchanged and retained its forward guidance – maintenance of accommodative stance "as long as necessary – at least during the current financial year and into the next financial year – to revive growth on a durable basis" - indicating that interest rates will stay lower for a longer period.
The MPC seems to have shown greater tolerance towards rising inflationary pressure as they are cautious about the durability of growth and see inflation primarily as supply-side driven. The RBI governor comforted the markets stating that liquidity would be kept sufficient.
RBI conducted Open Market Operations (OMOs) - ₹ 200 bn of central government securities and ₹ 100 bn of state government securities
Outlook:
Bond yields likely to be driven by the extent of open market operations conducted by the RBI
Markets may start pricing in some amount of liquidity withdrawal by the end of current fiscal as a part of the normalization of easy monetary policy
However, RBI is expected to support fixed income markets by implementing unconventional measures
Exhibit A: GoI borrowing rate for 10 year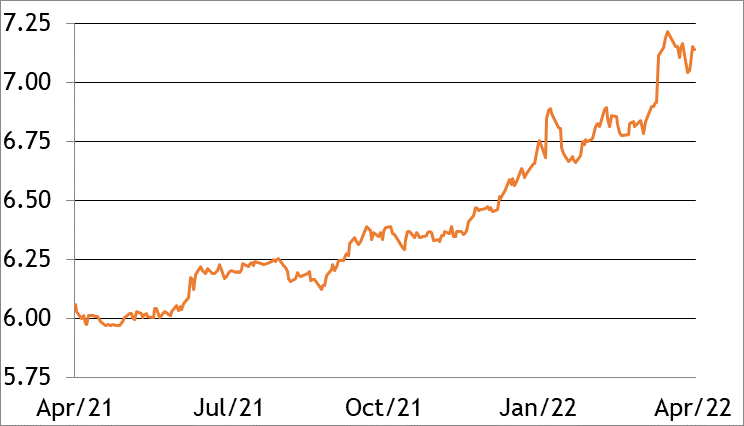 | | | | | | |
| --- | --- | --- | --- | --- | --- |
| EQUITY INDICES | Dec 31, 2020 | 1-Month % Change | 1-Year % Change | 3-Year % Change | 5-Year % Change |
| Nifty | 13,982 | 7.8% | 14.9% | 9.9% | 12.0% |
| BSE 100 | 14,101 | 8.0% | 15.2% | 8.5% | 11.7% |
Returns more than 1 year have been annualized.
Review:
Nifty gained 7.81% for the month of December 2020:
FII buying in Indian markets continued unabated, with December being the second consecutive month of more than USD 6Bn of FII inflows in Indian equities. Progress on vaccine development and early stages of roll-outs in select developed countries kept the appetite for risk assets high, as markets are pricing in a full-fledged economic recovery, and beyond. India also stood out globally in terms of falling incremental infection rates and stronger economic activity normalization. High Beta sectors: EPC and metals & minerals outperformed. Auto and cement underperformed, as high frequency volume data showed signs of flattening after a period of sequential improvement. Commodity prices, which are rising globally in sync with other risk assets, cloud the margin outlook of these sectors.
Outlook:
Our outlook is Cautious in the short term and Neutral for the medium term. Economic activity recovery/ normalization has been strong, but Nifty rally has been quite sharp and seems to have priced in normalization and more. Both sentiments and liquidity are positive right now, but need to be watchful for any reversal.
Medium term: CoVID 19 vaccines are expected to be available by mid CY21. After that, we will need to monitor sustainable economic growth rate post normalization. Rising inflation will challenge prevailing low interest rate regime. Nifty earnings are expected to be up ~5% in FY21 and then grow by ~25-30% in FY22. This leaves little room for disappointment. For FY21 the Nifty is trading at ~29x, materially above historical averages.
Investors will benefit from emerging opportunities post the slew of reform measures taken to aid labor productivity, domestic manufacturing and agriculture productivity. Also the gradual shift to mature markets structures that reward professional and better managed firms will be a key driver of performance.
Equity Insights:
Investing in turbulent times: Expectations Investing
2020 has been a special year for Indian equity markets, the economy and human society at large. While there have been learnings, one that will continue to hold great importance from a markets perspective is the importance of expectations in investing. Indeed, research on long term data by a leading brokerage house shows that performance vs expectations is one of the biggest determinants of medium term outperformance. 2020 was special because of the huge changes in expectations through the course of the year. In the middle of the year, expectations were very low at full year earnings de-growth and FIIs were selling aggressively. Q2 results were a huge positive surprise, especially on margins. As the economy has recovered, market has continued to rally much beyond the previous highs. Now, expectations have swung to the other extreme. With unprecedented buying in the last two months, CY20 has seen $20bn+ of FII inflows, vs outflows in other key Emerging Markets. Earnings expectations from FY22 have hit very high levels and we need to be watchful for any potential negative surprise on the same.
COMP/DOC/Jan/2021/71/5096.