Review
Macro-economic indicators
Retail inflation (which includes price of food, fuel, electricity, etc.) for Aug 2021 came in lower at 5.3% as against the previous month at 5.6%.
As of Sept 2021, the total loan book of all the banks in India increased by only 6.7%, significantly lower than their deposit growth, which was at 9.3%; suggesting that investors are preferring safely, stability, guarantee of returns in these market conditions
Manufacturing PMI for Sept 2021 rose to 53.7 as against the previous month at 52.3
Rupee traded in the 73.02 – 74.24 range, before closing the month weaker at 74.24
| | | | |
| --- | --- | --- | --- |
| MACRO DATA | Sept 30, 2021 | 1-Month | 1-Year |
| USD / INR | 74.24 | 73.01 | 73.76 |
| Brent Oil ($/bl) | 78.52 | 72.99 | 40.95 |
| Retail Inflation (CPI) | 5.30% (Aug) | 5.59% | 6.69% |
| | | | |
| --- | --- | --- | --- |
| MARKET RATES | Sept 30, 2021 | 1-Month % Change | 1-Year % Change |
| Borrowing rate for GoI for 10 years | 6.22% | 0.01% | 0.21% |
| Borrowing rate for good quality (AAA) private company for 10 years | 6.76% | -0.14% | 0.09% |
| Bond market index | 3968.46 | 0.73% | 5.83% |
Market Review
Government borrowing program for second half of FY2022 was announced at ₹ 5.03 tn. Absence of additional borrowing for GST compensation to states was supportive for bond yields.
RBI increased the variable rate reverse repo (VRRR) auctions to ~₹ 5.4 tn through 7 and 14 day tenor – resulting in a spike in cut-off upto 3.99% - which spooked the short term yields by 15-25 bps.
Outlook:
RBI likely to announce further steps towards monetary policy normalization –increase in the tenor of variable rate reverse repo (VRRR) auctions and reduce the amount of G-SAP for Q3 FY2022
Markets will keep a watch on rising global crude prices
RBI is expected to smoothen out any uptick in yields through OMOs & G-SAP
Exhibit A: GoI borrowing rate for 10 year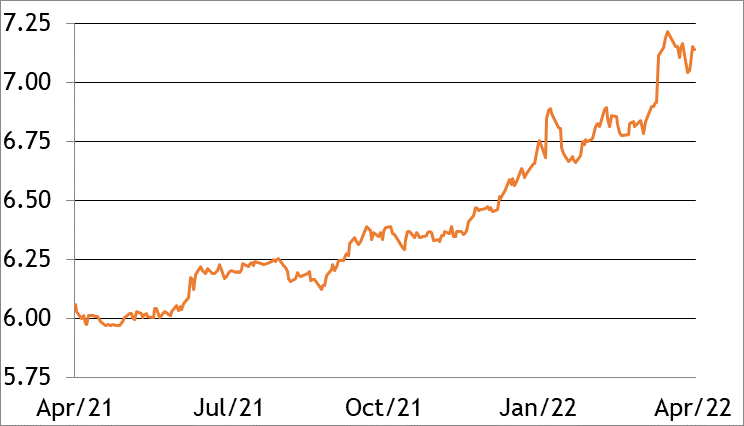 | | | | | | |
| --- | --- | --- | --- | --- | --- |
| EQUITY INDICES | Sep 30, 2021 | 1-Month % Change | 1-Year % Change | 3-Year % Change | 5-Year % Change |
| Nifty | 17,618 | 2.8% | 56.6% | 17.2% | 15.4% |
| BSE 100 | 17,881 | 2.9% | 57.0% | 17.1% | 15.1% |
Returns more than 1 year have been annualized.
Review:
Nifty was up 2.84% for the month of September 2021:
September saw continued strong liquidity inflows in equity markets, from both FIIs as well as domestic investors. Mid and small caps led the rally again, with very high double digits returns on a one year basis now. As the local economy opened up, driven by strong pace of vaccinations; stocks performed well. The good news is that Vaccinations picked up further pace in India, recording new highs and economic activity continued to be strong.
FIIs buying continued to the tune of US$1.1bn in September. Domestic institutional investors continued to be buyers (net buying US$0.8bn). Infra / Oil & Gas outperformed while Metals / Capital Goods underperformed.
Outlook:
Our outlook remains Cautious in the short term and Neutral for the medium term. Nifty rally has continued unabated as we enter the second quarter corporate earnings season. Normalization of economic activity has happened to a great extent, helped by vaccinations progressing at a fast pace and pent-up demand returning.
However, we continue to monitor the pace of economic growth post recovery/ normalization. Q2 onwards, corporate earnings will see a steep base. We note that the Nifty Valuations remain elevated, with FY22E PER at ~24X.
Over the medium term, we expect higher inflation to push up nominal economic output values. We also expect capital expenditure (both by industries and government), consolidation in industries (benefiting large listed players) and import substitution in certain categories to aid earnings growth of listed stocks and hence the broader indices. Rise of technology enabled (digital) businesses is a key area which is seeing rising activity levels, with employment generation.
Earnings expectations are high for FY22 and FY23 (with the street building in a ~27% CAGR in Nifty EPS over these two years). Any disappointment on this count is a risk. Tapering of Quantitative Easing by the US Fed is a key monitorable, as it could lead to reversal in foreign flows, which have strong till now.
Equity Insights: Volatility continues
Since the start of 2020, COVID and related events have caused bouts of volatility in markets. Central banks have pumped in abundant liquidity and governments have kept fiscal policies supportive, thereby reducing the downside for markets and the economy.
As we get into the phase where economic activity normalizes globally we might see bouts of volatility in different asset classes as various points of time. One such is the recent sharp correction in Chinese stocks led by regulatory crackdown on mainly technology businesses as well as a major real estate player struggling to meet debt obligations.
We know that it is difficult to time the markets. At the same time, volatility is a permanent and prominent feature of the experience of investing in equities. Hence, we believe that a good way to navigate the volatility is to remain invested in equities, through a dynamic allocation plan. Hence, we continue to recommend that investors consider ICICI Prudential Life Balanced Advantage Fund, which invests with a dynamic allocation to equity and debt, while maintaining majority of its assets in equities at all times.
COMP/DOC/Oct/2021/510/6687