Review
Macro-economic indicators
Retail inflation (which includes price of food, fuel, electricity, etc.) for February 2021 jumped to 5.03%, significantly higher than the previous month's 4.06%
As on March 12 2020, the total loan book of all the banks in India increased by only 6.5%, significantly lower than their deposit growth, which was at 12.1%; suggesting that investors are preferring safely, stability, guarantee of returns in these market conditions
The strong pick-up in manufacturing activity showed signs of moderations
Rupee traded in the 72.30 – 73.60 range, before closing the month stronger at 73.11, compared to 73.47 in the previous month
| | | | |
| --- | --- | --- | --- |
| MACRO DATA | Mar 31, 2021 | 1-Month | 1-Year |
| USD / INR | 73.11 | 73.47 | 75.54 |
| Brent Oil ($/bl) | 63.54 | 66.13 | 22.74 |
| Retail Inflation (CPI) | 5.03% (Feb) | 4.06% | 6.58% |
| | | | |
| --- | --- | --- | --- |
| MARKET RATES | Mar 31, 2021 | 1-Month % Change | 1-Year % Change |
| Borrowing rate for GoI for 10 years | 6.17% | -0.07% | 0.03% |
| Borrowing rate for good quality (AAA) private company for 10 years | 7.16% | -0.03% | -0.14% |
| Bond market index | 3838.28 | 1.47% | 7.69% |
RBI Policy Meeting
RBI continued to conduct Open Market Operations (OMOs) of government securities to support the bond markets – which along with cancellation of the last government security auction led to softening of bond yields
The government announced the borrowing calendar for the first half of FY2022 – 7.24 trillion – with 75% of the borrowing in the 10Y+ segment
Outlook:
The sharp rise in covid cases in the country and announcement of localized lockdowns is likely to result in a delay in the normalization of liquidity & interest rates – RBI likely to provide more clarity in the upcoming RBI Monetary Policy Committee (MPC) meeting.
The global rise in bond yields and crude oil prices needs to be monitored
RBI support in the form of open market operations (OMOs) is expected for the next fiscal year also to ensure that the government's borrowing program is managed in a non-disruptive manner
Exhibit A: GoI borrowing rate for 10 year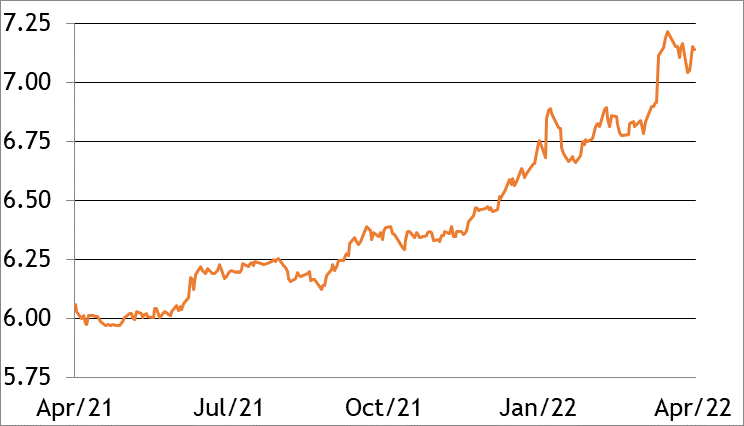 | | | | | | |
| --- | --- | --- | --- | --- | --- |
| EQUITY INDICES | Mar 31, 2021 | 1-Month % Change | 1-Year % Change | 3-Year % Change | 5-Year % Change |
| Nifty | 14,690 | 1.1% | 70.9% | 13.3% | 13.7% |
| BSE 100 | 14,863 | 0.9% | 71.5% | 12.3% | 13.7% |
Returns more than 1 year have been annualized.
Review:
Nifty up 1.11% for the month of March 2021:
March 2021 was another volatile month driven by US Treasury yields hardening and 2nd wave of Covid cases in India. India outperformed other Asian and other emerging markets in FY21, ending the year near the top.
Economic activity continued to be robust, with most high frequency indicators showing YoY and 2 Year growth.
FII inflow continued to be strong at US$2.3bn. Domestic institutional investors turned buyers to the tune of US$0.7bn. Cement/Technology outperformed while Oil & Gas/Telecom underperformed. Mid-caps continued to show strength.
Outlook:
Our outlook remains Cautious in the short term and Neutral for the medium term. Nifty rally has been strong from the bottom of March 2020 and has a got a leg up since November 2020, aided by strong foreign flows. While Economic activity has normalized and is in growth territory now.
At the same time, global sentiments for risk assets are waning with rise in US yields. We are also seeing a strong Covid wave in India now.
We note that the Nifty Valuations remain elevated, with FY21 PER at ~29X.
We continue to be enthused by the rebounding economic growth (some of which is led by pent up demand from the lockdown) but Input cost inflation is up too. Production Linked Incentive schemes for different manufacturing sectors are getting implemented, in line with the "Atmanirbhar Bharat" policy. This is expected to be a growth driver too.
However, earnings expectations are high for FY22 and FY23 (with the street building in a ~25% CAGR in Nifty EPS over these two years). Any disappointment on this count is a risk. Reversal in foreign flows, led by developments in the US markets, is another risk.
Equity Insights:
While the market has rallied sharply over the last one year, in the last three months we have seen volatility coming back. Corrections are an inherent feature of markets, and the current elevated market levels present a higher risk of correction. We believe maintaining a disciplined asset allocation strategy is important Hence we would like re-iterate our message to our ULIP holders:
a) For all wealth creation goals, policy holders should have a mix of both debt and equity and align their investments as per their preference of asset allocation and risk appetite, and most importantly spend 5 more years after paying their premiums regularly.
b) For sacred and sacrosanct goals such as retirement, son/daughter's wedding and children's education, we suggest Balanced Returns Strategy (BRS) for policy holders.
c) Over the last one year equity market has been volatile, an important learning for policy holders is to remain invested and contribute regularly as per their preference of asset allocation. Decent corrections can be used as opportunity to increase equity allocation.
COMP/DOC/Apr/2021/124/5587