Review
Macro-economic indicators
Retail inflation (which includes price of food, fuel, electricity, etc.) for May 2021 jumped to 6.3%, significantly higher than the previous month's 4.2%
As on June 30 2021, the total loan book of all the banks in India increased by only 5.8%, significantly lower than their deposit growth, which was at 10.3%; suggesting that investors are preferring safely, stability, guarantee of returns in these market conditions
Rupee traded in the 72.81 – 74.37 range, before closing the month weaker at 74.33
| | | | |
| --- | --- | --- | --- |
| MACRO DATA | June 30, 2021 | 1-Month | 1-Year |
| USD / INR | 74.33 | 72.62 | 75.51 |
| Brent Oil ($/bl) | 75.13 | 69.32 | 41.15 |
| Retail Inflation (CPI) | 6.30% (May) | 4.23% | 6.27% |
| | | | |
| --- | --- | --- | --- |
| MARKET RATES | June 30, 2021 | 1-Month % Change | 1-Year % Change |
| Borrowing rate for GoI for 10 years | 6.05% | 0.03% | 0.17% |
| Borrowing rate for good quality (AAA) private company for 10 years | 6.85% | 0.00% | 0.00% |
| Bond market index | 3891.67 | -0.04% | 4.90% |
Market Review
RBI changed the auction mechanism for securities upto 30 year tenor to uniform price from an earlier multiple price based auction. However RBI retained the multiple price based auction mechanism for long end bonds.
RBI also continued with the devolvement of 5 year and 10 year liquid benchmark securities on the primary dealers.
Outlook:
Large supply of centre and state government will keep the pressure on bond yields
Recent inflation prints and plateauing of second wave of Covid might nudge RBI to start normalizing rates by the end of this calendar year
Global rise in bond yields and crude oil prices needs to be monitored
Exhibit A: GoI borrowing rate for 10 year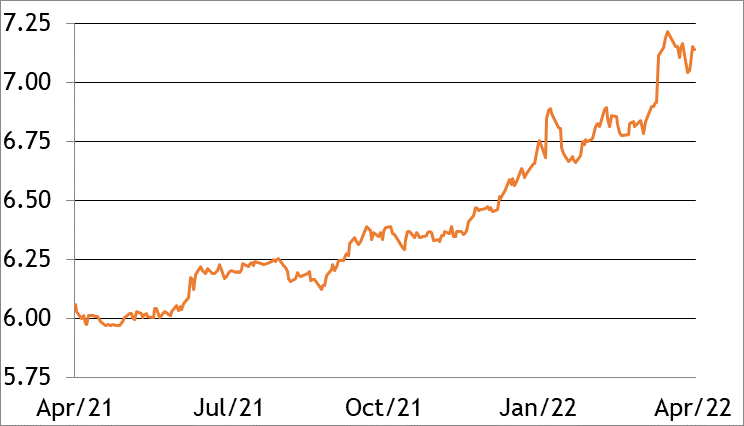 | | | | | | |
| --- | --- | --- | --- | --- | --- |
| EQUITY INDICES | June 30, 2021 | 1-Month % Change | 1-Year % Change | 3-Year % Change | 5-Year % Change |
| Nifty | 15,722 | 1.0% | 52.6% | 13.6% | 13.7% |
| BSE 100 | 16,010 | 1.2% | 53.8% | 13.4% | 13.7% |
Returns more than 1 year have been annualized.
Review:
Nifty was up 0.90% for the month of June 2021:
In June, Sentiments and flows remained supportive. Mid and small caps continued to see buoyancy in the market performance, aided by retail flows. The good news is that Vaccinations picked up pace and economic activity has been moving up towards normalization, quite rapidly.
FIIs inflow continued to be strong at US$1.50bn. Domestic institutional investors continued buying to the tune of US$0.95bn. Technology/Pharma outperformed while Bank/Capital Goods underperformed. Mid-caps led the rally.
Outlook:
Our outlook remains Cautious in the short term and Neutral for the medium term. Nifty rally has been strong from the bottom of March 2020. There has been a strong Covid wave 2 in India now denting economic activity and households' incomes. We expect normalization of economic activity to happen sooner than later, driven by vaccinations and pent-up demand returning.
However, we need to monitor the pace of economic growth post recovery/ normalization. We note that the Nifty Valuations remain elevated, with FY22E PER at ~21X.
Over the medium term, we expect higher inflation to push up nominal economic output values. We also expect capex (both government and private sector), consolidation in industries and import substitution in certain categories to aid earnings growth of listed stocks and hence the broader indices.
Earnings expectations are high for FY22 and FY23 (with the street building in a ~26% CAGR in Nifty EPS over these two years. FY22E/FY23E Bloomberg consensus EPS for Nifty ₹747/849 respectively). Any disappointment on this count is a risk. Reversal in foreign flows, led Tapering of Quantitative Easing by the US Fed becoming more imminent, is another risk.
Equity Insights: Importance of investing for the long term
We find that markets are at an interesting junction. The last one year has seen a steep rise in all indices globally, which has been great for investors. Now we have a good visibility of vaccinations driving us to a post-Covid normalized economy and hence robust corporate earnings. We also find that with elevated valuations, stocks are already pricing in this recovery to an extent. The other big event to watch out for is the starting of the Tapering of the Quantitative Easing program by the US Fed. Some degree of uncertainty is there around new virus strains and further Covid waves. Climate change is here and real, the effect of which can be seen in outlier weather events in various parts of the world!
On the other hand, many industries are undergoing some disruption or the other. Meanwhile Covid-led disruption has strengthened the competitive positioning of stronger companies in various industries.
While markets will continue to reward profitable and growing businesses, we suspect a fair degree of volatility to be a feature of the market in the medium term. Investors shall be well served to have an asset allocation strategy whereby volatility is their friend and not a foe!
In today's world, it is also becoming increasingly important to invest for sustainability. Sustainability is a function of responsible fiscal management and governance, and also responsible management of the society and environment. As investors, we shall need to focus on investing in sustainable businesses.
COMP/DOC/Jul/2021/67/6187