Review
Macro-economic indicators
Retail inflation (which includes price of food, fuel, electricity, etc.) surprised on the upside with July reading at 6.93% against market expectation of 6.25%. As on August 14, 2020, the total loan book of all the banks in India increased by only 5.5%, significantly lower than their deposit growth, which was at 11%; suggesting that investors are preferring safely, stability, guarantee of returns in these market conditions. Manufacturing indicator for the month of August showed signs of improvement as India announced Unlock 3.0. Indian Rupee appreciated against the US dollar on the back of strong foreign inflows.
| | | | |
| --- | --- | --- | --- |
| MACRO DATA | August 31, 2020 | 1-Month | 1-Year |
| USD / INR | 73.62 | 74.81 | 71.41 |
| Brent Oil ($/bl) | 45.28 | 43.30 | 60.43 |
| Retail Inflation (CPI) | 6.93% (Jul) | 6.23% | 3.15% |
| | | | |
| --- | --- | --- | --- |
| MARKET RATES | August 31, 2020 | 1-Month % Change | 1-Year % Change |
| Borrowing rate for GoI for 10 years | 6.12% | 0.28% | -0.44% |
| Borrowing rate for good quality (AAA) private company for 10 years | 6.77% | 0.41% | -0.62% |
| Bond market index | 3732.82 | -0.77% | 10.87% |
RBI Actions
A series of factors led to the fixed income market getting corrected through the month of August. This was due to no interest rate cuts by the RBI at its bi-monthly Monetary Policy Committee meeting and also because of the spike in retail inflation which was higher than expectation.
With tax revenues having dropped sharply in light of the lockdowns and the government's budget deficit is expected to increase since GoI would be borrowing more to propel the GDP growth. Hence, RBI announced various measures to keep the interest rates at which GoI borrows at low levels and under control (would subsequently lead to good quality corporates to also borrow at low rates) and also measures to encourage banks to invest in government securities.
Outlook:
Given the high retail inflation, we expect the RBI to keep policy rates (interest rates) unchanged at its next Monetary Policy Committee (MPC) meeting in October.
While GoI is expected to borrow more in second half of this financial year, RBI is expected to keep interest rates under control with some unconventional measures.
Exhibit A: GoI borrowing rate for 10 year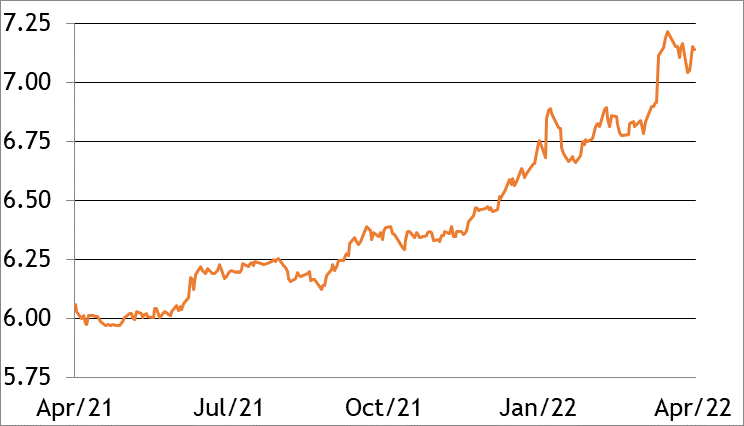 | | | | | | |
| --- | --- | --- | --- | --- | --- |
| EQUITY INDICES | August 31, 2020 | 1-Month % Change | 1-Year % Change | 3-Year % Change | 5-Year % Change |
| Nifty | 11,388 | 2.8% | 3.3% | 4.7% | 7.4% |
| BSE 100 | 11,481 | 2.9% | 3.1% | 3.6% | 7.2% |
Returns more than 1 year have been annualized.
Review:
Nifty gained 2.84% for the month of August 2020:
On hopes of faster economic revival as India unveiled Unlock 3.0 which led to an improvement in the economic recovery m-o-m in multiple sectors like toll collections, auto sales, durable sales, etc.
Encouraging results from Covid vaccine trials. Moreover, US Fed (equivalent to RBI in India) announced supportive measures for faster economic revival in US, which would eventually lead to faster global economic improvement since US is the biggest economy in the world and also an important trading partner with many countries across the world.
Outlook:
Equity market has sharply rallied from the lows of March till end of August (Nifty gained nearly 50%). However, we believe that the markets may be range bound in the short term till we see full Unlock of economic activities across sectors.
However, we remain positive in the medium term as urban cities have started getting a control on virus cases and have managed to reduce the fatality rate. This could increase confidence of the policy makers to accelerate the Unlocking of the domestic economy further. As we know that financial sector (banks and NBFCs) have been significantly impacted due to fears of slippage, concerns on NPAs and therefore have taken adequate measures to raise capital to buffer the impact from any shocks. Meanwhile, global central banks (US Fed, European Central Bank, Bank of England, Bank of Japan, etc.) including RBI and governments across the world continue to lend their support for a faster economic revival.
Equity Insights: Opportunities in "Atmanirbhar" India
The government of India has made some major policy decisions to improve the economy in the post-Covid world.
India's imports of electronics (mostly from East Asian countries) had been ballooning over the last decade. At the peak in FY19, we were clocking more than US$ 50bn of annual electronics imports. The government is in the process of putting up attractive incentive schemes to attract companies to put up manufacturing facilities in India for electronics and other categories. Some penal interest had been put earlier too on imports of certain items. As a result, for the last year and a half, imports have started falling.
Many of the East Asian economies achieved economic prosperity through becoming a manufacturing hub for items from textiles to electronics. In the process, many huge companies were created, generating decent employment for tens of millions of people. It will be interesting to watch this theme over a period of time and an opportunity for the Indian corporate sector to benefit over the next decade and for the crores of young people joining the labour force to gain employment opportunities. Equity, being a long term asset class, is a good way to benefit from such themes in the long term, for the patient investor.
COMP/DOC/Sep/2020/99/4433