Review
Macro-economic indicators
Retail inflation (which includes the price of food, fuel, electricity, etc.) for November 2021 came in marginally higher at 4.9% as against the previous month's 4.5%
The total loan book of all the banks in India increased by only 7.3%, significantly lower than their deposit growth, which was at 9.6%; suggesting that investors are preferring safety, stability and a guarantee of returns in these market conditions
Manufacturing PMI for December 2021 fell to 55.5 as against the previous month's 57.6
The rupee traded in the 74.34 – 76.23 range, before closing the month stronger at 74.34
| | | | |
| --- | --- | --- | --- |
| MACRO DATA | Dec 31, 2021 | 1-Month | 1-Year |
| USD / INR | 74.34 | 75.17 | 73.07 |
| Brent Oil ($/bl) | 77.78 | 70.57 | 51.80 |
| Retail Inflation (CPI) | 4.91% (Nov) | 4.48% | 6.93% |
| | | | |
| --- | --- | --- | --- |
| MARKET RATES | Dec 31, 2021 | 1-Month % Change | 1-Year % Change |
| Borrowing rate for GoI for 10 years | 6.45% | 0.13% | 0.59% |
| Borrowing rate for good quality (AAA) private company for 10 years | 6.93% | 0.06% | 0.39% |
| Bond market index | 3991.05 | -0.22% | 3.44% |
Market Review
In a surprise move, RBI kept the policy Repo rate unchanged at 4.00% while maintaining the 'accommodative' stance
Concerns around the new variant Omicron rattled global markets
Domestic bond yields rose in response to increase in crude prices, uptick in global bond yields and weak investor demand
Outlook:
RBI likely to announce further steps towards monetary policy normalisation over the next few months
Markets will keep a close watch on developments around the new variant Omicron
Exhibit A: GoI borrowing rate for 10 year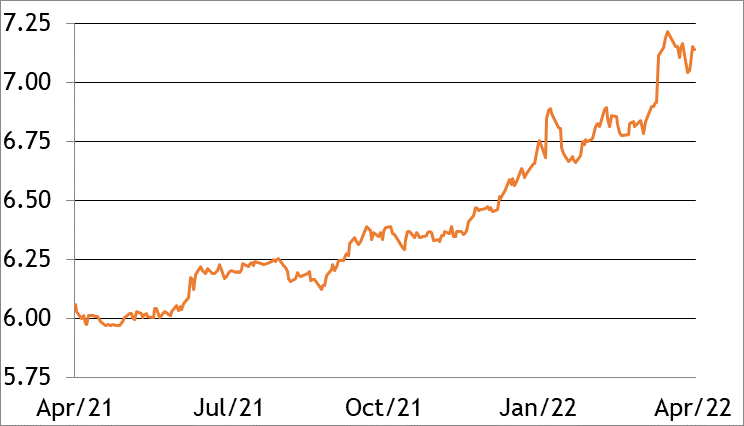 | | | | | | |
| --- | --- | --- | --- | --- | --- |
| EQUITY INDICES | Dec 31, 2021 | 1-Month % Change | 1-Year % Change | 3-Year % Change | 5-Year % Change |
| Nifty | 17,354 | 2.2% | 24.1% | 16.9% | 16.2% |
| BSE 100 | 17,626 | 1.8% | 25.0% | 16.5% | 16.0% |
Returns more than 1 year have been annualized.
Review:
Nifty was up 2.18% for the month of December 2021:
Markets rebounded somewhat, after a ~10% (peak to trough) correction in Nifty, the first since the Post COVID rally started in April 2020. FIIs selling continued unabated, Domestic participation pulled market up. We note that off late, FII activity has been marked by large rotation into new listings, which were mostly from the new age/ Digitally-enabled economy.
FIIs continued to be sellers to the tune of US $ 1.7 billion in December after selling US $ 0.7 billion in November. Domestic institutional investors continued to be buyers (net buying US $ 4.2 billion). Capital Goods/Technology outperformed while Finance/Telecom underperformed.
Outlook:
After this brief correction, our outlook remains Cautious in the short-term and Neutral in the medium-term. We note that economic activity remain strong, supporting markets sustain near the highs. However, the new variant of COVID-19 and increased talk on faster Taper from the US Fed have dampened sentiments somewhat.
We shall continue to monitor the pace of economic growth and any impending threats to sustenance of the same from mutant Viruses spreading and/ or other factors. In H2, we note that the market earnings will encounter a high base. Higher inflation is pushing up nominal economic output values and hence helping earnings. However, this high inflation can impact demand negatively & lead to profit margins declining. We are already seeing evidence of this in a few sectors. We note that the Nifty Valuations are at FY23E PER of ~20.3X, after the correction.
In the medium-term, we expect certain important drivers of growth to help. These are: Consolidation in businesses and rise of local manufacturing/import substitution. We also expect capital expenditure (particularly private capex) to improve, also driven by deleveraged balance sheets of corporate India. The rise of technology-enabled (digital) businesses is a key area that is seeing rising activity levels, and driving employment generation.
Earnings expectations are high for FY22 and FY23 (with the street building in a ~29% CAGR in Nifty EPS over these two years). Any disappointment on this count is a risk. Tapering of Quantitative Easing by the US Fed is increasingly becoming a risk, as it could lead to a reversal in foreign flows, which have been strong till now.
Equity Insights: Avenues for long term investing by retail investors
In India, ULIPs and SIPs are the popular long term retail financial savings instruments, including (especially) for Equities. This is now well established and hence we see a certain stability in the flows into these products. Conceptually, ULIPs and SIPs are akin to the 401(k) plans of the US. As more of workforce has disposable savings and are moving away from Defined Benefits retirement schemes, as well as lower risk free interest rates; the need for such long term investing instruments are being felt by more people. ULIPs, given their defined tenures, are an avenue for disciplined goal based investing, especially for predictable big ticket spending needs like Children's education and marriage. They come with the additional factor of life coverage, which allows the goal to be met even in an eventuality.
COMP/DOC/Jan/2022/61/7192