Review
Macro-economic indicators
Retail inflation (which includes the price of food, fuel, electricity, etc.) for October 2022 came in lower at 6.77% as against the previous month's 7.41%
The total loan book of all the banks in India increased by 17.0%, much higher than their deposit growth of 8.3%
Manufacturing PMI for November 2022 came at 55.7 as against the previous month's 55.3
| | | | |
| --- | --- | --- | --- |
| MACRO DATA | Nov 30, 2022 | 1-Month | 1-Year |
| USD/INR | 81.43 | 82.79 | 75.17 |
| Brent Oil ($/bl) | 85.43 | 94.83 | 70.57 |
| Retail Inflation (CPI) | 6.77% (Oct) | 7.41% | 4.48% |
| | | | |
| --- | --- | --- | --- |
| MARKET RATES | Nov 30, 2022 | 1-Month % Change | 1-Year % Change |
| Borrowing rate for GoI for 10 years | 7.28% | -0.17% | 0.95% |
| Borrowing rate for good quality (AAA) private company for 10 years | 7.60% | -0.13% | 0.80% |
| Bond market index | 4072.87 | 1.34% | 1.83% |
Market Review
Inflationary pressures have eased in the past one month as global commodity prices and oil prices have come down significantly from their highs. US Federal Reserve (US central bank) chief said that it could slow the pace of interest rate hikes in its upcoming monetary policy meeting in December. It is expected that the US Federal Reserve will hike their policy rate by 50bps instead of the last four consecutive hikes of 75bps. Crude prices have eased since the last month and are currently at closer to $85. Rupee has sharply recovered from record lows to trade in the range of 81.10-81.50.
10 year G-sec yields have come down sharply over the last month from 7.45% to 7.25% on account of ease in inflationary concerns, lower crude oil prices and rise in rupee. Markets now await the RBI monetary policy meeting in December for further cues.
Outlook:
We are 'Neutral' on the bond markets from a medium-term perspective. Bond yields have retraced from highs and are likely to be range bound taking cues from the movements in global bond yields, crude prices and exchange rate movements. We expect RBI to hike the policy repo rate by 35bps in the upcoming meeting.
Exhibit A: GoI borrowing rate for 10 year
| | | | | | |
| --- | --- | --- | --- | --- | --- |
| EQUITY INDICES | Nov 30, 2022 | 1-Month % Change | 1-Year % Change | 3-Year % Change | 5-Year % Change |
| Nifty | 18,758 | 4.1% | 10.4% | 15.8% | 12.9% |
| BSE 100 | 19,082 | 3.7% | 10.2% | 16.2% | 12.2% |
Returns of more than 1 year have been annualised.
Review:
Nifty was up 4.14% for the month of November 2022:
Lower than expected US CPI Inflation and falling commodities improved risk sentiments
FIIs continued buying and DIIs turned net seller during the month
Oil & Gas/Metals sector outperformed the market while Capital Goods/Auto were key underperforming sectors
Outlook:
Our outlook remains Neutral in the short term and Positive in the medium term. Corporate India had a decent earnings season with the Nifty50 companies reporting healthy sales growth of ~27% YoY. India's structural promise remains attractive, but the economy can feel pressures from slowing global growth in the near term. At the same time, strong credit growth and strong order book raises the hope of private capex recovery in India. We note that the Nifty Valuations are at FY2023E PER of ~22X and at FY2024E PER of ~18X.
In the medium term, we expect certain important drivers for growth:
Falling commodity prices will lead to better margins for consumer facing companies.
Increasing formalization, supply chain shifts and boost to local manufacturing
Rise of technology-enabled (digital) businesses
Capex driven by robust cash flows, low leverage and improving outlook
Earnings expectations are robust for FY2023 and FY2024 (with the forecasters building in a ~16% CAGR in Nifty EPS).
Equity Insights: India's Structural growth story is strong
Corporate India leverage position – among the best globally
Corporate India's ability to withstand interest rate hikes and ability to invest for future growth is the probably the the best its been in a very long time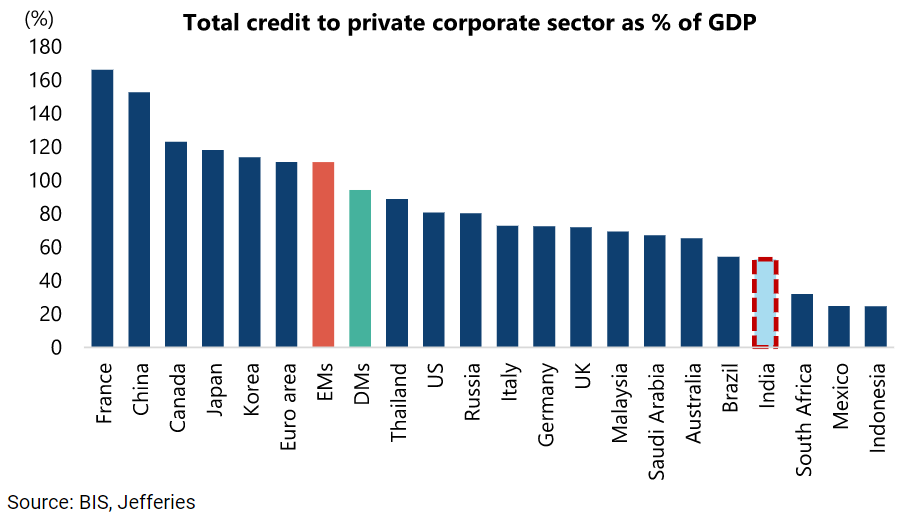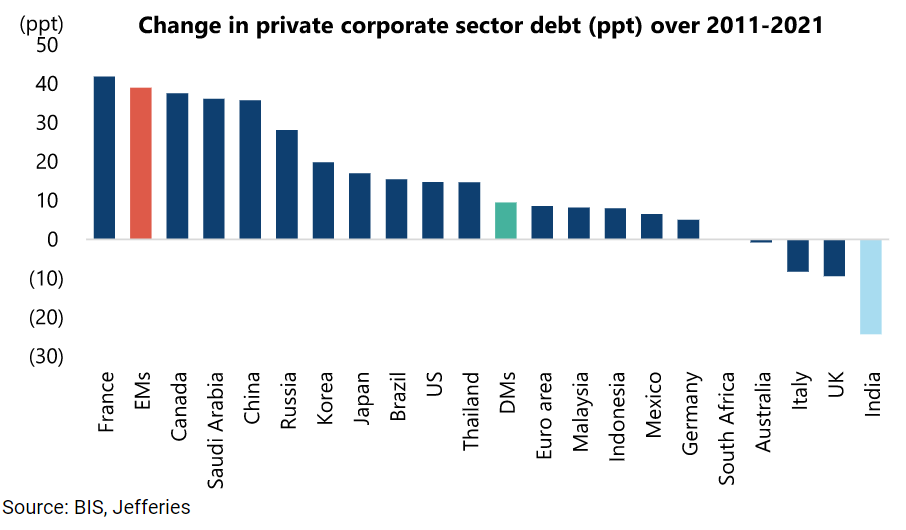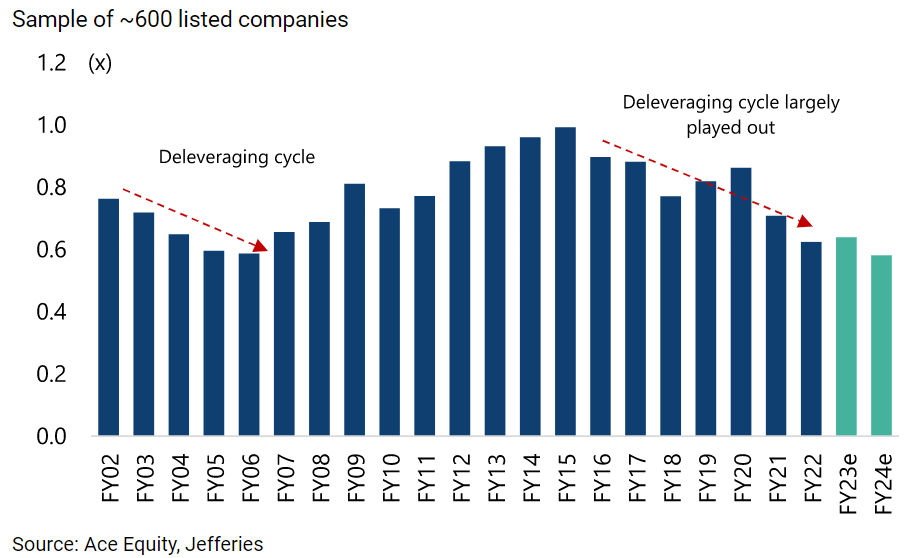 COMP/DOC/Dec/2022/512/1653