Even the healthiest of individuals can fall sick without warning and require expensive medical treatments. In such a scenario, being financially unprepared to tackle the costs of the necessary medical procedures is not an option. This is where comprehensive health insurance plans come into play, to ensure the financial comfort of your family and you. Here is an in-depth look at this handy financial tool that has helped many individuals heave a sigh of relief in their hour of need.
What are health insurance plans?
Health insurance plans reimburse insured customers for their medical expenses, including treatments, surgeries, hospitalisation and the like which arise from injuries/illnesses, or directly pay out a certain pre-determined sum to the customer. A health insurance policy offers coverage for any future medical expenses of the customer.

This is an agreement between the insurance company and the customer where the former agrees to guarantee payment/compensation~ for medical costs if the latter is injured/ill in the future, leading to hospitalisation. In most cases, insurance companies have tie-ups with a network of hospitals, thereby ensuring cashless treatment for patients there.
Types of Health Insurance Plans
Cancer Insurance Plans - A cancer insurance plan is a health policy specifically designed to offer financial protection against the costs of several types and stages of cancer. The plan can offer high lump sum payouts on the diagnosis of cancer
Critical Illness Plans - Critical illness plans are a type of health insurance plans which provides money for the treatment of major critical illnesses like kidney ailments, liver disorders, heart attacks, cancer, paralysis, and more. Critical illness plans offer a high sum assured that can be adequate to cover the costs of such illnesses. They also provide lump sum payouts on the first diagnosis of a critical illness without the claimant having to submit any hospital bills
Individual Health Insurance Plans - This is a basic health insurance plan that covers an individual. The coverage and sum assured can depend on the age, gender, and health status of the person
Family Floater Insurance Plans - These health insurance plans offer umbrella coverage that covers the entire family under a single policy. These plans have a unified premium and sum assured for all the members of the family. They can be used to cover costs like hospitalisation, surgeries, room rent, and more
Personal Accident Insurance Plans - A personal accident insurance is a health policy that covers the cost of treatment due to an accident. These plans cover the life assured and offer a payout to cover expenses like ambulance costs, emergency surgery expenses, doctor's consultation, and more
What is the need for health insurance?
Here is why you need health insurance:
Health insurance covers future illnesses/medical treatments without depleting your savings or negatively impacting your family's financial future
Medical costs are increasing rapidly and for those with insufficient savings, affording medical care becomes a problem during emergencies
Cashless treatment is possible within network hospitals, while reimbursements are given by insurance companies in other cases
Health insurance plans offer coverage against several types of ailments and surgeries, along with other aspects of medical treatment
Health insurance keeps you and your family worry free; you only have to pay an affordable premium for the same
In many cases, you also get coverage against hospitalisation costs, ambulance costs, consultations, medicines, tests and post-hospitalisation expenditure
What are the kinds of health insurance plans available?
There are several kinds of health insurance plans. Here are the main ones:
Individual plans
These are basic health insurance plans, covering the hospitalisation costs of the person insured
Family plans
These are health insurance plans where all family members can be included in a single coverage model. In this case, a fixed sum assured is provided to any family member who falls ill
Senior citizen plans
These are special insurance policies designed to meet the needs of senior citizens who are above 60 years of age
Critical illness insurance plans
These plans cover specific critical illnesses such as kidney ailments, heart attacks and so on. Cancer insurance and other plans are included in this section as well
Personal accident insurance
These plans offer coverage for hospitalisation in case of any motor accident
Maternity plans
These policies offer coverage for pre and postnatal medical care and delivery expenditure. They also offer coverage for the new-born for a certain duration along with ambulance costs
Unit-linked health insurance plans
These plans offer health insurance coverage while also helping build savings to meet those costs which do not have coverage under the policy. These are insurance-cum-investment plans that help you accumulate corpus
How to choose the right kind of Health Insurance for yourself?
Make sure your health plan covers a wide range of medical problems and can help you avail of various pre and post-hospitalisation benefits. If the health insurance you have bought is for your family, it is necessary to make sure that it covers the needs of all the family members

As much as it is important that the health plan meets your needs, it is equally important that it also suits your budget. As your income increases, and the size of your family as well as requirements change over time, the plan can further be reviewed accordingly

According to your status, select an individual or family health plan. If you have a family who needs your support, opt for a family health plan so as to reap maximum benefits at a comparatively low cost

It is important to know the term for which the policy would cover you. After all, one is more likely to require medical facilities at a later stage in life, as we approach old age. Therefore, a plan which offers lifetime renewability would be more beneficial

It is always better to choose an insurance provider that has a wide network of hospitals included in its list. One should also check if the hospitals one prefers are included in the list or not

It is advisable to choose an insurance provider with a higher claim settlement ratio. The claim settlement ratio is the number of claims settled by the insurance provider over the total number of claims received

key BENEFITS OF HEALTH INSURANCE PLANS
There are several benefits offered by health insurance plans, including the following:
Coverage for pre and post hospitalisation expenses
Insurance policies usually offer coverage for expenses both before and after hospitalisation up to pre-specified durations/limits
Room rent coverage
Room expenses are also covered by insurance policies and this is dependent on the premium paid by the customer
Cashless facility
If you are getting treated at a network hospital, you can get hassle-free cashless treatment under your insurance plan
Medical check-ups
Insurance policies also offer coverage for periodic health check-ups. Some companies even offer free check-ups on the basis of earlier no-claim bonuses
Ambulance and transportation costs
Ambulance charges and other transportation costs of the person insured are also covered under health insurance policies
Tax benefits
You can get a deduction of up to ₹25,000 from taxable income of health insurance premiums paid under Section 80D of the Income Tax Act. The maximum deduction limit for senior citizens is ₹50,000
No-Claim Bonuses
These bonuses are earned by the person insured if no claims are filed for treatments in a particular year

check premium

check premium
Features of ICICI Pru Heart/Cancer Protect
Fixed benefit health insurance plans like ICICI Pru Heart/Cancer Protect plan pay out a certain amount/sum upon the occurrence of any particular pre-specified event that is covered by the policy. For instance, a critical illness plan will involve the payout of a guaranteed/assured lump sum upon diagnosis of any critical illness covered under the health insurance policy.
Why should you buy Fixed Benefit Health Insurance plans?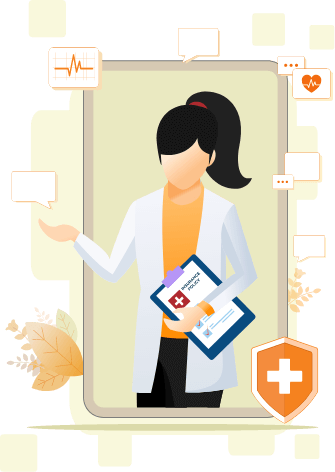 Lump sum Payout -

Fixed benefit health insurance plans pay out a lump sum# amount upon diagnosis of any disease/ailment covered under the same. This helps you take care of treatment and other costs right from the outset without financial worries. Payouts are made irrespective of the cost of treatment

No Worries of Sub Limits -

Many health insurance plans come with sublimits in terms of room rent, hospitalisation expenses and so on. With fixed benefit health insurance plans, you receive a lump sum payout upon diagnosis of a particular illness without bothering about sublimits and so on

No Hospital Bills Required -

Unlike other health insurance plans, fixed benefit health insurance plans pay upon diagnosis of the illness without the hassle of submitting hospital bills

Get treated anywhere in the world -

Since you get a lump sum payout upon diagnosis, you need not be admitted to a network hospital for cashless treatment. You can opt for treatment anywhere in the world as per your own preferences and convenience

Affordable and fixed premiums -

You can get higher coverage for premiums that are affordable. Premium amounts also remain fixed for the entire duration of the policy.

Tax Benefits -

You can avail tax benefits* under Section 80D of the IT Act on the premiums you pay on these policies. Maximum amount of deduction from taxable income is ₹25,000 for you and your family (children and spouse) if you are less than 60 years old. If you are all more than 60 years old, the maximum deduction can increase to ₹50,000. The same is applicable for premiums that you pay for your parents, i.e. a maximum deduction of ₹25,000 if they are below 60 years of age and ₹50,000 if they are above 60 years of age
Does your Health Insurance cover COVID-19 claims?
With the COVID-19 pandemic being the biggest medical concern of the world right now, the Insurance Regulatory and Development Authority of India (IRDAI) has made it mandatory that all health insurance products must cover the treatment and hospitalisation cost of COVID-19 as well. If the insured person has been hospitalised for more than 24 hours after being diagnosed with COVID-19, the insurance policy will cover the hospitalisation costs. There are also several insurance schemes that will cover pre and post-hospitalisation care as well as quarantine related expenses in registered centres. Some policies may also include ICU charges. These are all subject to the terms and conditions of the policy and it is therefore advisable that one contacts the insurance company to gain further clarification on all the expenses covered.
Why should you buy Health Insurance online?
Safety
All insurance companies have made all the information available online. One can easily compile the same under one platform. It is always better that the policyholder selects and compares all the plans so that they can select the one that best suits their needs
Affordability
Online health insurance plans are more cost-efficient than offline ones. This is because of the no-involvement of agents and the policyholder can directly connect with the insurance company to buy the insurance
Flexibility
Online channels offer more flexibility to policyholders than offline channels, when it comes to buying insurance plans. Sitting in the comfort of our homes, one can compare and select different policies that suit one's needs
Why are many of the policyholders underinsured?
Many policyholders buy insurance to save taxes. The purpose of insurance is security during unforeseen circumstances- not to save tax, it is just an ancillary benefit. The market is filled with a variety of insurance products. However, different products suit different people and if research is not done properly, people usually end up buying policies with higher premiums and inadequate covers
Why Buy a Health Insurance Plan at an Early Age?
One can avail lower premiums as the premium amount is usually determined on the basis of the current age and health status of the policyholder, by insurance providers
One can enjoy tax* benefits for a longer duration. One can claim the premium deducted from the income under Section 80D of the Income Tax Act, 1961
Insurance providers exclude pre-existing conditions. As you grow older, you are more likely to have such conditions and if you buy a policy then, it won't cover them
As a young person, there are lesser health problems at the onset. This reduces the chances of the health insurance policy getting rejected
Along with better coverage, buying insurance at a young age helps in better financial planning. If the health aspect is taken care of, one can think of making other financial investments as well
We are trapped into sedentary lifestyles from a very young age, which lay the foundation of many critical illnesses. In such times, it becomes more important than ever to have a health insurance policy to keep one covered
If you have any queries regarding the online purchase of our Health Insurance Plan, please give us a call on
Optional Add-ons in Health Insurance
1. Maternity cover add-on
This optional add-on will cover expenses during childbirth. It is mostly for pre and post-delivery expenses
2. Critical illness add-on
This optional add-on covers the cost of selected critical illnesses with the sum assured paid by the insurance company
3. Accidental disability add-on
This optional add-on helps the policyholder in case of an accident and the amount paid depends on the sum assured (totally or partially) for the optional add-on. However, the amount that would be paid would depend on the severity of the injury
4. Room rent waiver
The room rent waiver helps the policyholder select the room of their own choice without paying the payment of extra money
5. Hospital cash add-on
If the policyholder has been hospitalized, this optional add-on provides them with the cash amount for all the days of hospitalisation
Fixed Benefit Health Insurance Plans Online by ICICI Prulife that are Worth Checking Out
ICICI Prulife Heart/Cancer Protect
Coverage against heart ailment and Cancer
Claim amount paid out upon first diagnosis of any of the listed minor/ major condition irrespective of actual costs of medical treatment.
High coverage amount for comparatively lower premium, i.e. ₹ 20 lakh coverage at ₹ 387 per month1.
5% discount on first year premium when you buy health cover for yourself and spouse2.
Waiver of premium in case of minor claim or on diagnosis of permanent disability due to accident4.
A 10% increase in sum assured if it is a no claim policy year5.(Available with Increasing cover benefit (Optional).)
1% of sum assured paid out as additional income for five years after a major condition6. This is over and above the lump sum payable. (Available with Income benefit (Optional))
25% of lump sum payout in case of minor condition7 diagnosis and 100% payout in case of major condition8 diagnosis post deduction of any previous payouts on minor claims if applicable.
As can be seen, health insurance is a basic need that cannot be ignored. Assess your current financial situation and future needs to choose the best policy for yourself and your family now!
Important documents to get your Health Insurance claim amount easily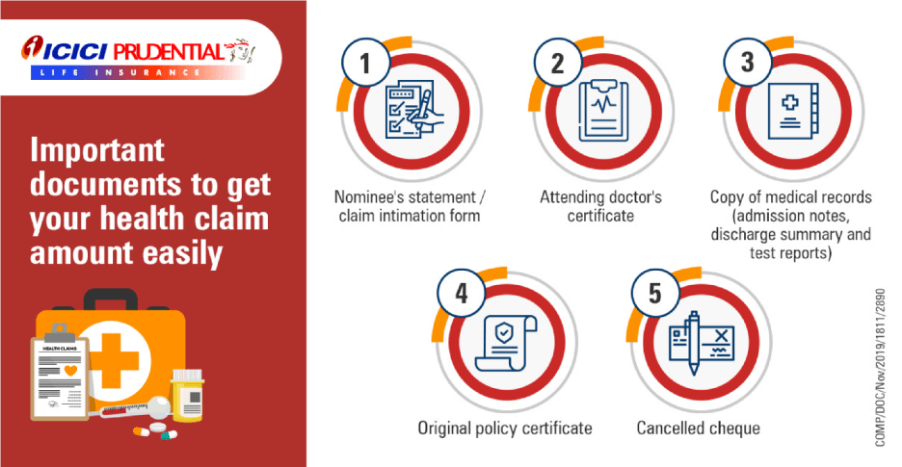 Points to consider before choosing a Health Insurance Plan
As you can see, there are various types of health insurance plans in the market. Therefore, choosing the most appropriate one can be confusing. When you select a health insurance plan, it is essential to compare different plans and choose the one that offers an affordable premium for comprehensive protection. Here are some factors that can help you choose a good health insurance plan for your needs:
A considerable number of network hospitals -

It can be beneficial to look for a health insurance plan that covers a wide network of hospitals. Network hospitals simplify and speed up the claim process. They can help you save crucial time during an emergency. So, always check the list of networks hospitals and pick a health policy that covers treatment undertaken in hospitals close to your area of residence

Cashless hospitalisation facility -

With cashless hospitalisation, you no longer have to worry about clearing bills. The hospital settles the bill with the insurance company internally, so you can solely focus on your health. The cashless hospitalisation feature offers convenience and can help you in your hour of need

A good claim settlement ratio -

Claim settlement ratio is the percentage of the individual claims that an insurance company settles in a financial year out of the total claims received in the same financial year. A consistently high Claim Settlement Ratio shows that the company is committed to the needs of its customers

Range of sum insured -

If you have a good range of sum insured amounts to choose from, you have greater flexibility to select the amount you need. This enables you to pick a suitable health policy that can offer you adequate financial protection

A home care facility -

Treatment is not limited to the hospital alone. Many illnesses can require long-term care at home. Therefore, it can help to look for a plan that covers medical expenses incurred at home, such as pre and post-hospitalisation expenses

Good customer rating and reviews -

Customers ratings can be an excellent indicator of a health insurance plan. They can help you understand the services of the insurer. They can also offer a glimpse into the claim settlement process and how prompt the insurer is to solve the customer's queries and issues. You can check online reviews and customer feedback to ensure that you pick the best insurance company
Health Insurance Plans FAQs
COMP/DOC/Aug/2023/218/3834
Health Insurance Related Articles
~ On the fulfilment of certain conditions as per the terms and conditions of the product.
1 The premium rate is of ₹ 10 lakh Cancer cover and ₹ 10 Lakh Heart cover for 35 year healthy male for policy term of 20 years and inclusive of tax.
2 A discount of 5% on the first year's premium will be offered on purchase of ICICI Pru Heart / Cancer Protect when life assured and his/ her spouse is covered under the same policy. The policy benefits of both the Lives Assured shall be independent of each other. The Sums Assured of both the lives could be different. A claim made by one Life Assured under the policy does not affect benefits of other Life Assured. This Family benefit has to be chosen at the inception of the policy only, spouse cannot be added once the policy is issued. This discount is not applicable on Single Pay Policy. With one policy, you can avail either Family Benefit or Loyalty Benefit.
3 ₹ 20 lakh cover mentioned here consist of ₹10 Lakh Cancer cover and ₹10 Lakh Heart cover of ICICI Pru Heart/Cancer Protect plan.
^Tax benefits under the policy are subject to conditions under Section 80D and other provisions of the Income Tax Act, 1961. Goods and Services Tax and Cesses, if any, will be charged extra as per prevailing rates. Tax laws are subject to amendments made thereto from time to time. Please consult your tax advisor for details, before acting on above.
# A lump sum is paid out on diagnosis of any of the listed conditions. This payout is based on the level of the condition. In any case, the total payout in the policy cannot exceed 100% of the Sum Assured of the cover selected. Please refer to the sales brochure to know about the payouts at different level of condition.
* Tax benefit of ₹ 7,800 is calculated at highest tax slab rate of 31.2% (including Cess excluding surcharge) on health premium u/s 80D of ₹ 25,000. Tax benefits under the policy are subject to conditions under Section 80D, 10(10D), 115BAC and other provisions of the Income Tax Act, 1961. Goods and Services Tax and Cesses, if any, will be charged extra as per prevailing rates. Tax laws are subject to amendments made thereto from time to time. Please consult your tax advisor for details, before acting on above.
4 The Company shall waive all future premiums on a claim of Minor condition under the chosen cover; or on the diagnosis of Permanent Disability (PD)of the Life Assured due to an Accident. If both Cancer cover and Heart cover are chosen such waiver is allowed on a minor/major condition claim under either Cancer cover or Heart cover; or on the diagnosis of PD. This benefit is available only if the Policy is in force as on the date of diagnosis of the condition/at the time of accident.
5 With Increasing Income Benefit, the Sum Assured chosen at inception increases by 10% simple interest on each policy anniversary, for every claim free year. The maximum Sum Assured under the cover will be capped at 200% of the Sum Assured chosen at inception. This increase in Sum Assured will stop on occurrence of first claim under the cover. Where Cancer cover and Heart cover are chosen together, the Sums Assured for both the covers increase by 10% simple interest on each policy anniversary, for every claim free year. The maximum sum assured will be capped at 200% of the Sum Assured chosen at inception for each type of cover. In case of occurrence of first claim under any one type of cover, the increase in Sum Assured will stop for that cover type and Increasing Cover Benefit will continue for the other type of cover, for which no claim has occurred.
6 Under the Income Benefit, the Sum Assured has to be chosen at inception of the plan. An amount equal to 1% of the Sum Assured chosen at inception will be paid to the policyholder each month, for a period of 5 years upon a valid claim under any of the listed Major conditions. Where the Cancer cover and Heart cover are taken together, pay out under Income Benefit will be triggered for only that cover for which a claim of Major condition is registered and all Benefits through other cover remains unaffected.
7 In case of Minor Conditions, the total payout will be capped at 100% of the Sum Assured.
8 Under the Income Benefit, the Sum Assured has to be chosen at inception of the plan. An amount equal to 1% of the Sum Assured chosen at inception will be paid to the policyholder each month, for a period of 5 years upon a valid claim under any of the listed Major conditions. Where the Cancer cover and Heart cover are taken together, payout under Income Benefit will be triggered for only that cover for which a claim of Major condition is registered and all Benefits through other cover remains unaffected.
$ A waiting period is the amount of time an insured must wait before some or all of their coverage comes into effect. The insured may not receive benefits for claims filed during the waiting period. Source: https://www.investopedia.com/terms/w/waiting-period.asp
#1 Source: Does your health insurance policy cover OPD expenses? Here's what to look for - https://www.moneycontrol.com/news/business/personal-finance/does-your-health-insurance-policy-cover-opd-expenses-heres-what-to-look-for-11439321.html
ICICI Pru iProtect Smart UIN -
ICICI Pru Heart/Cancer Protect UIN -
ADVT: W/II/4413/2021-22