What is a Critical Illness Insurance Cover?
Critical Illness Insurance Plans provides coverage against specific life threatening diseases. Treating such critical illnesses may require multiple visits to the hospital over a long period of time. What this means is that in addition to the hospitalisation cost, there will be other costs like doctor visits, medical expenses, etc. A Critical Illness plan pays a lump sum amount that can be used to cover these high expenses .The good thing is that this lump sum payout is in addition to any mediclaim or health insurance policy that you may already have.
Health problems, in most cases, strike unexpectedly, resulting in a sudden financial burden for the family. In such cases, family is not only worried about meeting the cost of treatment, but also struggles with the loss of income they go through due to you being unwell. This most of the times, leads the family, to dip into their savings kitty built for child's education or one's own retirement. Your loved ones let go of their dreams to overcome financial exigencies health problems create.
Why should one buy a Critical Illness Cover, (even if you already have a mediclaim plan)?
Treating a critical illness takes time and money. If you are an earning member and are diagnosed with a major illness, it is quite likely that you will have to skip work to get treatment for it. This leads to a double trouble:
Losing your monthly income
Increase in expenses due to frequent visits to the hospital, high cost of medical tests and medicines that will be required for complete recovery
In this case, a mediclaim plan will only reimburse your hospitalisation costs. A critical illness cover goes beyond just hospitalisation costs and helps you cover other expenses like doctor consultation fees, cost of medicines etc. In addition to that, if you have any outstanding loan like a home loan or a car loan, the critical illness pay-out can help with dealing with the outstanding EMIs.
If you do not have a critical illness cover, you may have to dip into all the hard earned money that you have saved. The high cost of treatment can erode years of savings in just a few months.
Key Benefits of ICICI Prudential Smart Health Cover with ICICI Pru iProtect Smart
List of 34 Critical Illnesses Covered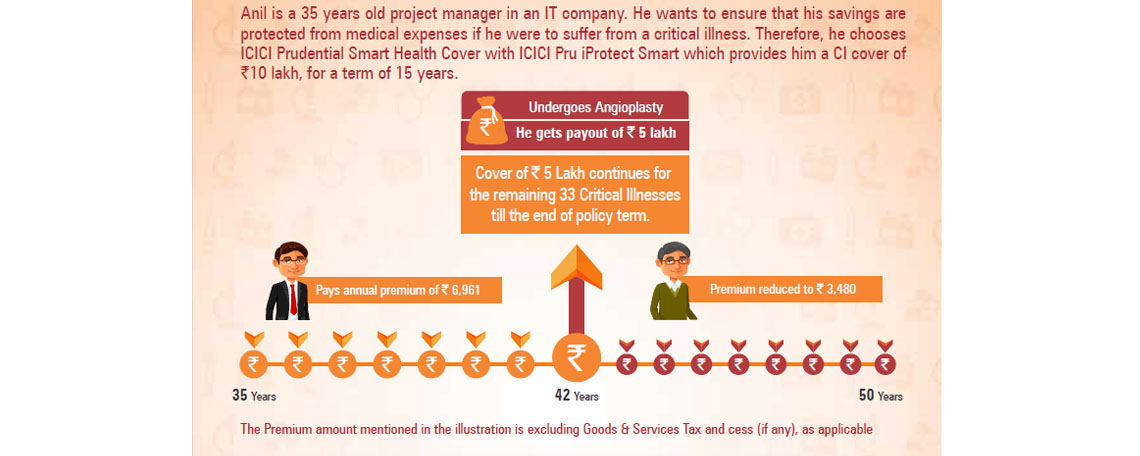 This is designed from ICICI Pru iProtect Smart "Life and Health" option. It is not mandatory for you to purchase this option only. You have the choice of purchasing other options of the product as per your needs.
*To know more about the illnesses covered, please refer to the leaflet. Only Doctor's certificate confirming diagnosis to be submitted.
#The CI Benefit for Angioplasty is subject to a maximum of 5,00,000. On payment of Angioplasty, if the CI Benefit is more than 5,00,000 the policy will continue for other CIs with CI Benefit reduced by Angioplasty payout and correspondingly Life cover reduced by the same amount. The future premiums payable for the residual CI Benefit and correspondingly reduced Life Cover will reduce proportionately.
Tax benefits under the policy are subject to conditions under the provisions of the Income Tax Act, 1961. Applicable taxes will be charged extra as per prevailing rates. Tax laws are subject to amendments from time to time.
ICICI Prudential Life Insurance Company Limited. IRDAI Regn No. 105. CIN: U66010MH2000PLC127837. ADVT No: W/II/0976/2016-17. UIN: 105N151V02