Importance of Saving Money
"Don't save what is left after spending; spend what is left after saving" is the advice given by the world's most successful investor Warren Buffet. The importance of saving money cannot be overemphasised.
Saving is an excellent habit that you must inculcate early on in life to ensure your financial security.
Major reasons to save money include:
To have an emergency fund to cover unexpected expenses such as a medical emergency or an unexpected expensive repair for your home or vehicle
To have a retirement fund to take care of your day-to-day expenses after you retire
To make investments that can earn an income that beats inflation
To make a down payment for your home or other big purchases
To pay for your children's education and marriage
Besides the above, you can also find your reasons to save, but save you must!
How to save money
Saving is crucial. This is much easier said than done. It is not uncommon for your short term happiness to override your long term goal of saving. To be able to save, you need to be firm with yourself.
Here are some steps to start saving:
Estimate your current sources of income and the total amount of income.
Set aside funds required to run your household and meet other necessary expenses.
Earmark funds for expenses to be incurred on shopping, outings, and other activities.
Mark the rest of your earnings as your monthly savings.
Set a tight budget for yourself and operate within the budget at all times, barring a few unavoidable exceptions such as a medical emergency.
Once you have an exhaustive plan of your expenditure, you would be able to find out the amount of money left over for savings. This will give you an estimate on how much you can save every month.Then plan on deploying these savings in appropriate investment avenues.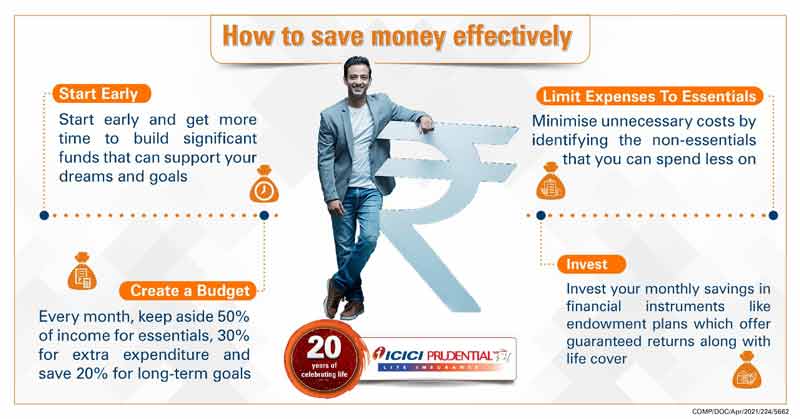 Strategies for saving money
The best way to bring discipline in your savings habit is to open a separate account for your savings, apart from your regular salary or business account. Transfer the amount set aside for savings to this separate account. You can then invest in different savings instruments directly from this account
The most important thing when saving money is to exercise strong will power to not touch the money earmarked for savings. It's possible that you may give up your resolve to save and utilise the funds for some unwarranted expenditure. Be wary of this. Stick to the budget and do not exceed it. Instead, make all efforts to try and save even from a tight budget
Constantly evaluate your shopping and spending habits to take advantage of any extra savings possible. Make a conscious decision to set aside the amount saved. This will help to enlarge your savings kitty
Another good strategy is to involve your family members in your savings habit. You can also create a competition among your family members to see who would save the most every month
These are some of the important tips to save money for a bright future for you and your family. Always remember, a properly inculcated savings habit leads to increased happiness by bringing both financial security and financial independence.
People like you also read ...
COMP/DOC/Apr/2020/34/3458