The lockdown made us all realise the importance of maintaining good physical health. As people remained confined in their homes, the lack of physical exercise led to their immunities getting weaker. People also realised that the lack of a healthy lifestyle also affected their mental health. Those used to leading a healthy lifestyle missed their workouts even more. And those who did not pay much attention to their physical fitness got the time to choose a way of healthy living.
It can be a difficult step to start your journey towards fitness but not an impossible one. Once you choose to live healthily your goal towards fitness is already half completed. We have a few tips that can get you started in this journey of yours.
Let's look at what you can get started with. Physical fitness doesn't only involve weight training and gym workouts. It includes many other choices. Below is a list of some of the most common ways to stay fit. Before you choose what works for you, it is important to understand that you will have to commit to your fitness regime. What works for others might not always work for you. Hence, it is important to choose a form that you will enjoy doing and can commit to.
Below are some common workout tips that you can enjoy as you begin your journey towards a healthy future:
Aerobics tips for beginners

Aerobic is a moderate intensity workout form. During aerobics, your breathing increases, and so does the amount of oxygen you inhale.

Aerobics is a good form of cardio exercise and can prove to be very beneficial in helping reduce blood pressure, improving cardiovascular health, and regulating blood sugar among others.

Yoga tips for beginners

Yoga is one of the oldest forms of exercise. Until a few years ago, not many people took interest in yoga.

However, with its innumerable benefits recognised by doctors around the world, yoga is becoming more and more popular among people today. Not only does yoga help you maintain a healthy lifestyle, but it also brings you a lot of inner peace.

It teaches you to live in the present moment and helps combat stress.

Gym/weight training tips for beginners

One of the most common forms of workout is lifting weights at the gym.

While it needs no introduction, it is essential to know that weight training needs a lot of commitment, consistency, and determination.

Regular gymming can help you pave the way to healthy living.

Zumba tips for beginners

Have you ever realised that when you are dancing, you don't realise how much time has passed? That's exactly what a session of Zumba feels like.

The Latin-inspired dance form is one of the most common group exercises around the world.

Running tips for beginners

We all know about running. It helps not only improve our physical health but also our mental health.

However, running requires maximum consistency and commitment. You can begin with jogging and gradually move to running.
The above-mentioned workout tips are some of the most common ways of maintaining fitness. You can pick and choose whichever form you like. Once you decide which exercise works best for you, below are some additional fitness tips for beginners like you to get started: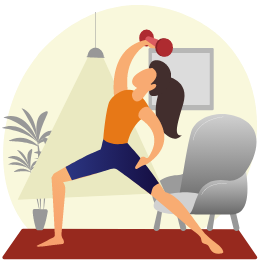 Set realistic goals
While most people begin their fitness journeys to lose weight, it is important to understand that results will never show up overnight. The goal weight you set for yourself will require dedication and commitment. Working out is not only about losing weight – it is also about choosing a healthy lifestyle and ensuring physical fitness. When you define your goal weight, make sure you set realistic goals for yourself.
Make a plan and follow through
You decided to join the gym, got yourself a membership, and bought some really cool clothes, but you simply couldn't get up. Not today, not yesterday, not the day before. While setting your fitness goals, make sure you define a plan that will work for you. Early mornings, not your thing? Try evenings. Can't workout in the afternoon? What about a post-work workout? Whatever it is, make sure that you make a plan that works for you and doesn't seem like a chore.
Start with simple
A healthy lifestyle is not the outcome of a day or a week. Do not push yourself to extremes. Take it slow and be patient. You'll get better as long as you do not give up
Don't forget to warm up and cool down
One of the most important things to remember when beginning your workout journey is to not forget to warm up. Spend a good amount of time doing stretching exercises and warming up your body before you start your workout. Stretch your muscles, run a little, do some yoga, and then dive into your routine. Warm-ups ensure you don't pull your muscles during workouts. Similarly, a good stretching session post-workout is equally important. It is important to help your body come back to its normal state after a good workout session. Slow walking or stretching are some good ways to help your body cool down.
Don't give up
It takes months and months of hard work to build stamina. Remember what motivated you to choose a physical fitness plan. You may not see results in a day or a week, but it is very essential to be patient and give yourself credit each day.
A good workout should be a regular part of healthy living and not a once in a while thing.
As a beginner, you can choose any of the above-mentioned workout tips which are well suited to your lifestyle. Stick to your plans and you will most definitely see results!
Apart from exercising and working out, make sure you also get yourself a good health insurance plan. The ICICI Pru iProtect Smart term plan provides a life cover` and financial security, in case anything unfortunate happens to you. The plan also offers coverage for COVID-19 life claim* as well as 34 life-threatening critical illnesses# (optional).
W/II/0423/2022-23
People like you also read ...
` Life cover is the benefit payable on the death of the Life Assured during the policy term.
* Our Life insurance policies cover COVID-19 claims under life insurance claims, subject to applicable terms and conditions of policy contract and extant regulatory framework. COVID-19 is not included in Critical Illness benefit covered under ICICI PRU iProtect Smart.
# Accelerated Critical Illness Benefit (ACI Benefit) is up to ₹ 1 Crore (Subjected to underwriting guidelines). Accelerated Critical Illness Benefit (ACI Benefit) is optional and available under Life & Health and All in One options. This benefit is payable, on first occurrence of any of the 34 illnesses covered. Medical documents confirming diagnosis of critical illness needs to be submitted. The benefit is payable only on the fulfillment of the definition of the diagnosed critical illness. The ACI Benefit, is accelerated and not an additional benefit which means the policy will continue with the Death Benefit reduced by the extent of the ACI Benefit paid. The future premiums payable under the policy will reduce proportionately. If ACI Benefit paid is equal to the Death Benefit, the policy will terminate on payment of the ACI Benefit. To know more in detail about ACI Benefit, terms & conditions governing it, kindly refer to sales brochure. ACI Benefit term would be equal to policy term or 30 years or (75-Age at entry), whichever is lower.
ICICI Pru iProtect Smart UIN (A Non-Linked Non-Par Life Individual pure risk premium product).
COMP/DOC/May/2022/275/0382