Claim settlement ratio is one of the important factors that you should consider while deciding on the insurance provider to buy a term life insurance plan. Keeping your best interests in mind, we have put together key facts about claims that can be helpful when you buy a term plan:
1. Claim settlement ratio is published every year
Our Claims Settlement Ratio for FY2018-19 is 98.6%
This is computed basis individual claims settled over total individual claims for the financial year. For details, refer to the Annual Report for FY2018-19 on our Website.
2. Claim settlement ratio must be consistent
Over the last decade, we have successfully maintained a solid track record in claims settlement. The Claims Settlement Ratio for all life insurance companies is published in IRDAI's Annual Report. This ratio is based on volume of claims settled and ours is one of the best in the industry. Check out our historical claim settlement ratios below:
| | | | | | | | | | | |
| --- | --- | --- | --- | --- | --- | --- | --- | --- | --- | --- |
| Financial Year | 2018-19* | 2017-18 | 2016-17 | 2015-16 | 2014-15 | 2013-14 | 2012-13 | 2011-12 | 2010-11 | 2009-10 |
| Claims Settlement Ratio | 98.6% | 97.88% | 96.68% | 96.2% | 93.8% | 94.10% | 96.29% | 96.53% | 94.61% | 90.17% |
*Claim statistics are for FY2018-19 and computed basis individual claims settled over total individual claims for the financial year. For details, refer to the Annual Report for FY2018-19 on our Website. For the other years, you can refer to the Annual Reports of the respective years on
IRDAI's website
3. Claims process must be simple
We have made our claims process really easy. It gets completed in 3 steps:
To know more about our claims process, click here.
Term life insurance for EVERYONE
4. Claim process must be quick
We strive to provide a quick and transparent claims experience.

During FY2018-19:
Our average turn around time for settling a claim is 2.34 days**
79% of claims have been settled within 3 days**
We have settled 97% of claims received within 30 days of intimation~


Check out some of the feedback we received from claimants:

For the first time ever, an insurance company has been able to impress me enough & not find a single reason to complain - No repeat visits, no running around, no this/that mismatch, no useless delays, no wastage of time, no useless questions etc. - Just NOTHING except true professionalism!

Well done! - Keep up the brilliant work!!

I think it is the fastest Claim Settlement seen ever and I dont have any words to say except THANK YOU.

My experience through the claim settlement process has been the ultimate service one can get.

Delivered with highest priority care and sensitivity.

I express my gratitude and sincere thanks for the quick settlement of Death Claim under ICICI Pru policy - of my daughter Ms. Latha Ganesan. The entire process was handled quite smoothly by ICICI Pru staff at CMH Road, Indira Nagar, Bangalore, first by explaining the papers required which were duly submitted. Thereupon, further processing was also handled in a professional manner by seeking necessary clarifications and finally accepting the claim. This has helped in settling the account with ICICI Bank for the Housing Loan taken by my daughter.

Thanks to the entire ICICI Pru team.

5. Claims paying ability rating should be good
As a measure of good governance as well as independent certification of financial strength, our Company has subscribed to ICRA Limited's surveillance on Claims Paying Ability rating. This rating measures an insurance company's ability to meet policyholder obligations. Our Company has been rated iAAA since 2009 when it initiated the surveillance with ICRA Limited.

Rating Agency
Instrument
Rating
Rating Date
ICRA
Claims paying ability
iAAA
MAR-19
ICRA
Claims paying ability
iAAA
MAR-18
ICRA
Claims paying ability
iAAA
MAR-17
ICRA
Claims paying ability
iAAA
MAR-16
ICRA
Claims paying ability
iAAA
MAR-15
ICRA
Claims paying ability
iAAA
MAR-14
ICRA
Claims paying ability
iAAA
MAR-13
ICRA
Claims paying ability
iAAA
MAR-12
ICRA
Claims paying ability
iAAA
MAR-11
Note: Ratings for ICICI Prudential Life insurance are subject to regular revisions. Kindly refer to the respective agencies for rating methodology.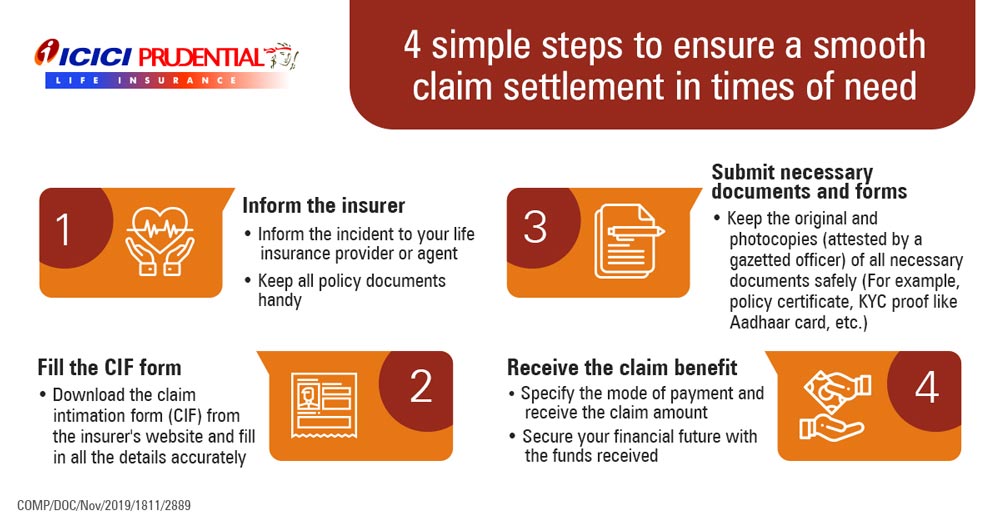 People like you also read ...

**The average TAT is calculated from the last document received to payment disbursal date for non-investigated claims.
~The percentage of claims settled within 30 days is computed as follows: Number of individual claims settled within 30 days (10,816) ÷ Total number of Individual claims settled (11,216) × 100
*Day 1 is counted from the day of receiving the last document. All due premiums in the policy have been paid and the policy has been active for a continuous period 3 years. Mandatory document to be submitted at Branch Office before 3pm on a working day- Original policy certificate, copy of death certificate by local authority, Nominee's current address proof, photo identity proof, Cancelled cheque. Copy of bank passbook, Copy of medico legal cause of death, Medical records (Admission notes, Discharge / Death summary, Test reports, etc.). For accidental death – Copy of FIR, Panchanama, Inquest report, Driving license. Interest shall be at the bank rate that is prevalent at the beginning of the financial year in which death claim has been received. In case of breach in regulatory turnaround time, interest will be paid as per IRDAI regulations.
#As per Financial Statements (Schedule 4- Benefits paid (Gross)) of the company, benefits paid since inception up to March 31, 2019.
W/II/2486/2018-19.